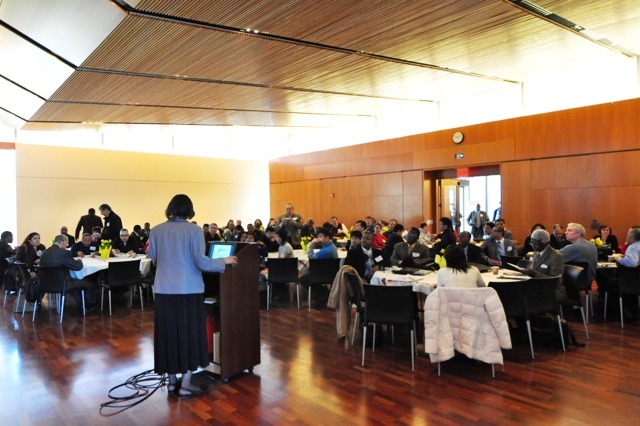 Over 150 Pastoral leaders, friends and supporters, convened on March 23 at Princeton University for the first annual ABC-NJ New Church Development Pastoral Leadership Development Retreat. Workshops on best practices in New Church Development and biblically based approaches seasoned church planters have used were highlights of the gathering.  Featured speakers included:
Rev. Dr. Lee Spitzer – Executive Minister and Senior Regional Pastor, American Baptist Churches of New Jersey
Rev. Mia Chang – Church planter and lead pastor of NextGen Church in  West Windsor, New Jersey, and
Rev. Osvaldo Jiménez – Church planter and pastor of Iglesia Bautista Hispana in Morristown and Misión Latina in Ledgewood, New Jersey
It was also a time of sharing resources. One of the presenters, Rev. Osvaldo Jiménez, was asked what books he has found inspiring in his ministry. Below is a sampling of what was offered:
The Book of Martyrs, John Fox
Church Planting in the African American Community, by Michael J. Cox
Table in the Wilderness, Watchman Nee
The Character of the servant of God, Watchman Nee
What Shall this Man do?, Watchman Nee
The Harbinger, Jonathan Cann
Rev. Dr. Spitzer was honored with a special award for ten years of service to ABC-NJ and for his support of ABC-NJ New Church Development.  To encourage continued leadership development, each attendee received a complimentary copy of Rev. Dr. Spitzer's Making Friends, Making Disciples or Endless Possibilities: Exploring the Journeys of Your Life.
To learn more about ABC-NJ New Church Developmet or future events, please contact Dr. Karen Jackson-Weaver, Associate Regional Director of New Church Development, using the form below.
For the full photo album of the event, please follow this link.
Contact Dr. Weaver
[contact-form to='kjweaver@abcnj.net.' subject='New Church Development Inquiry'][contact-field label='Name' type='name' required='1'/][contact-field label='Email' type='email' required='1'/][contact-field label='Comment' type='textarea' required='1'/][/contact-form]